Occasional Speaker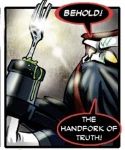 Joined: Fri Sep 05, 2014 12:12 pm
Posts: 20
Everything started with a dream..
The wind was blowing and the cold breeze from the snowy mountains was piercing to the bone. The massive gate of the citadel was closed tight and the guardian stood there with no intention of letting anything alive enter the citadel.
The beast in the black armor let out a savage roar and attacked with his massive axe to his opponent. The bull-like creature raised his shield and mustered all his strength to block the attack. The axe hit the shield with heavy force, but the bull creature stand still, letting out a fierce shout and pushing the beast back.
The beast in the black armor smiled. His icy-blue eyes glowed as he raised his fist at the air.
"Feast My minions!!!" He shouted
"Troll, watch out!!" The bull warned and with a sudden look on the right, an aberration of raw flesh and blood appeared, letting out a horrific scream…

"AAAhhhh", Soulna screamed as she wakes up suddenly.
The light from the morning sun was filling the room from the window opening and the morning breeze was giving a peaceful feeling.
"What a dream…" Soulna though. She had similar dreams the last days with epic battles at a frozen land, but the figures in her dream where not Pandaren, as her.
Soulna got up from her bed and after dressing up, opened the window. The peaceful village of Halfhill has started waking up, with the smell of fresh bread filling the atmosphere and the morning greetings giving the sense of peace and serenity that the Valey can give to anyone who visits it. She rushed downstairs to have her breakfast. Her brother was already up, but is known that he wakes up, before the sun rises, practicing with his swords on his practice dummy.
"Good morning Monchac. I'm going to prepare breakfast".
"Morning Sis. It was about time to wake up!".
Soulna smiled. Her brother could be passed for a bully, but she knows that he is kind in heart.
The table was set and the two siblings sat down to eat. Soulna couldn't get her mind of the last dream that she had.
"What's wrong Sis?" Monchac asked.
"Nothing…"
"You had another dream?"
"Yes…"
"It's the fourth night in row. This is not normal, we have to do something"
"I know… but what we can do?"
"There were some merchants at the tavern last night. They came from Dawn Blossom and heard them say, that Lorewalker Cho is there this time of year. We can…"
"No. I cannot go to one of the Lorewalkers like this and tell them my dreams. They will thing I am mad!!"
"They are the only ones who might know what your dreams mean.. They might be visions of the future or the past.. You have to find out."
"I don't know.."
"At least promise me you will think about it."
"I will. Thank you brother.."
"You are the only one I got Sis.. I care more than you think."
Soulna smiled at Monchac and got up.
"Have to go to the Silken Fields. I will help them gather the silk today."


In the fields, Soulna worked really hard today. She didn't realize how big the production was these days.
"Ah, very good" Silkmaster Tsai said, "These will do some fine clothes and business will be good".
Soulna smiled and continued working, but her mind was traveling to her dreams and specifically the last one. The last days have seen all these creatures, without knowing who or what they are. But her last dream was different.
"Troll.." she though. That's how the bull-like beast called her in here dream.
"Is that a name?" She though..
Her thoughts were broken from a scream. She raised her head from work and saw an monstrous Plainshawk, diving with fury and grabbing little Chim, Mr. Tsai's son. With a quick sweep, the bird turned and took off with hurry.
"Nooo" she screamed and started running, to save the child. The bird was already high in the air, she couldn't do anything!
"Noo!! GET BACK HERE!!" Soulna yelled and stretching her arm to reach the kid.
And suddenly something out of the ordinary happened. Soulna's hand caught on fire, forming a small ball of fire in her palm and in seconds projecting to the bird. The bird was hit by the ball of fire and with a loud screech of pain, opened its claws and let the kid!!
Chim was falling with increased speed. Soulna, still in shock of what she has done, somehow, she knew that she can save him. She opened her arms, focused on the child falling and closed her eyes.
Suddenly, magical transparent feathers surrounded the child and slowed the speed that was falling, landing safely on a pile of raw silk.
Mr. Tsai run and grabbed Chim in his hug.
"Oh, Chim, thank the celestials you are ok!!!", and squeezed his son in his hug.
He lifted his head and saw Soulna, standing still in her place. He didn't know how to react. Who is she really? Is she to be trusted? What are these powers that she possesses?
Everyone in the fields took two steps back, while staring her. No one knew what to say, how to react.
Soulna felt terrible. It wasn't easy for her to fit in a community and this didn't help right now. She turned away and run back to Halfhill, back to her home, where she felt safe.
Monchac, who was carrying two big kegs of Ale to the market, saw her running back to their place. He immediately left the kegs and run to his house, to his sister and find out what is going on.
When he entered the house, she heard Soulna crying from upstairs. He went to her bed room and knocked.
"Sis?", he asked, "Is everything ok?"
"GO AWAY!!" she screamed. "I DON'T WANT TO HURT YOU!!! I DON'T WANT TO HURT ANYBODY!!"
"Sis, what are you saying?? You won't hurt anyone… I am coming in"
Monchac entered the room and saw his sister sitting on the floor, scared and crying. He reached her and hold her in his arms.
"Everything is ok Sis.. Please tell me, what happened?"
Soulna immediately calmed. Her brother hug was the only thing that made her felt peace and safety. She wiped her eyes and explained her brother what happened.
"OOOkk.. That's weird… How did all of this happened??" he said.
"I have no idea.. I don't know..", she said and look down.
"None in our family ever had similar powers"
"I know, that's why I am scared…"
A sudden knock on the door was heard, forcing them to snap out of their thoughts.
"Wait here" Monchac said and went down.
After a few minutes, Monchac came back with a packet in his hands. There was a note on it, with Soulna's name written on it.
"I didn't see anyone. I found only this." He said and handled the packet to Soulna.
She opened the packet and inside she found a beautiful, sky-blue silk dress, with yellow endings and shapes of leafs on it.
There was also a note.
"Thank you, may the celestials guide your path and always protect you"
There was no name, but she knew it was from Silkmaster Tsai.
She smiled as she held the note in her hands…
"Monchac?.." She said.
"Yes Sis?"
"Will you accompany me to Dawn Blossom?"
Monchac smiled.
"Pack your things. We will leave tonight…"



_________________


"Dreams are the subconscious mind's way of reminding people to go to school naked and have their teeth fall out." Portal 2 - Fact Core

Soulna - Monchac - Picle - Henki - Guallivar - Komba